This Rennie family tree Website deals mainly with my ancestors who immigrated to Hinchinbrooke, Quebec, Canada (near Huntingdon - very close to the Canada-U.S. border) in the 1820's from Kilsyth, Scotland (east of Glasgow).
Other branches may be added if there is sufficient interest. The tree only covers Rennies. I have listed the husbands and the children of the Rennie women but stopped there due to size. It is left to those other families to complete their trees. I will provide links if requested.
I have chosen to list details about individuals who are (or may be) still alive in order to keep the tree as up to date as possible. If anyone prefers to not be listed, then please contact me and I will remove your information.
The family lived in Kilsyth, Scotland near Glasgow and can be traced back to the 1600's. There may be some links to Phantassie (a farm in East Lothian near Edinburgh), home of John Rennie the engineer (1761-1821) - it is not clear and I have not been able to find a definite connection.
This is a work in progess, so your patience is requested. Please use the "Feedback" menu option to contact me with any information that you might have on these branches, or any incorrect spellings or dates.
I would really appreciate it.
The charts are in the following format: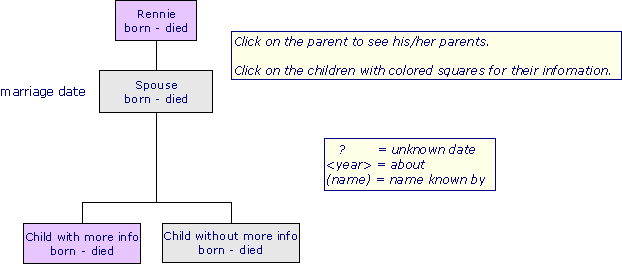 © 2005 Cambrium Consulting Services Inc.